ePanel with NGINX built for Performance.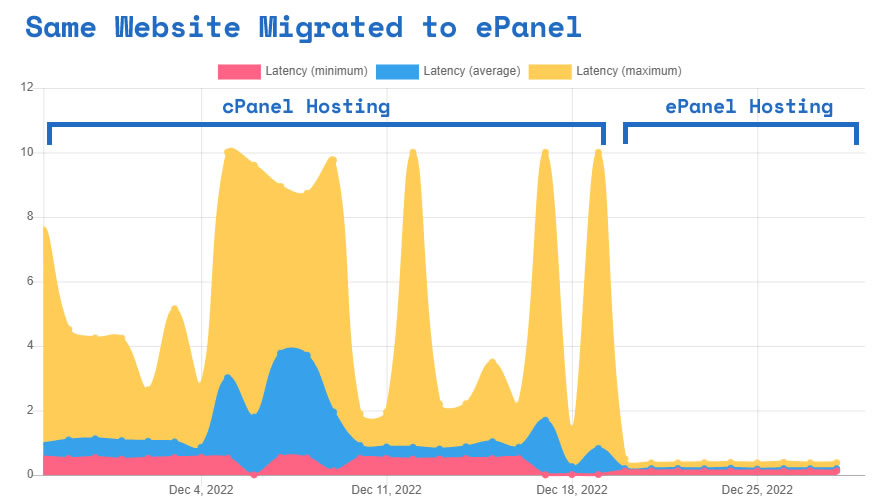 People say that building a website starts with your hosting provider. We can do you one better — the first step is ensuring you are on the right technology.
Server hardware and technology heavily influences all hosting essentials — the speed of your website, its constant uptime, your capacity to grow. In short, a reliable server and technology can be the difference between success and failure for your business.
What is a Control Panel?
A control panel is one of the primary tools for managing a website's hosting package. It lets users manage their domain names and email accounts, install applications, and configure settings easily.
You can also do this by logging into a server directly, but the process requires some technical knowledge since a single mistake can break your entire site. So, using a control panel is a convenient solution for all-level users.
A panel serves as an intuitive, user-friendly, and straightforward way to save your time and resources. Even though cPanel remains the most popular option in the industry, more alternatives have appeared, including CloudyHost's custom-built ePanel.
While cPanel has an active community and vast documentation resources, ePanel offers an easy-to-navigate dashboard, self-explanatory menus, and an overall pleasant feel. An custom developed panel can provide extra flexibility for new features.
What Is ePanel?
ePanel is our own custom-built hosting control panel created by our developers, UX engineers, and researchers. When accessing it, users can make the most of its primary functions, such as domain, email, as well as file and database management.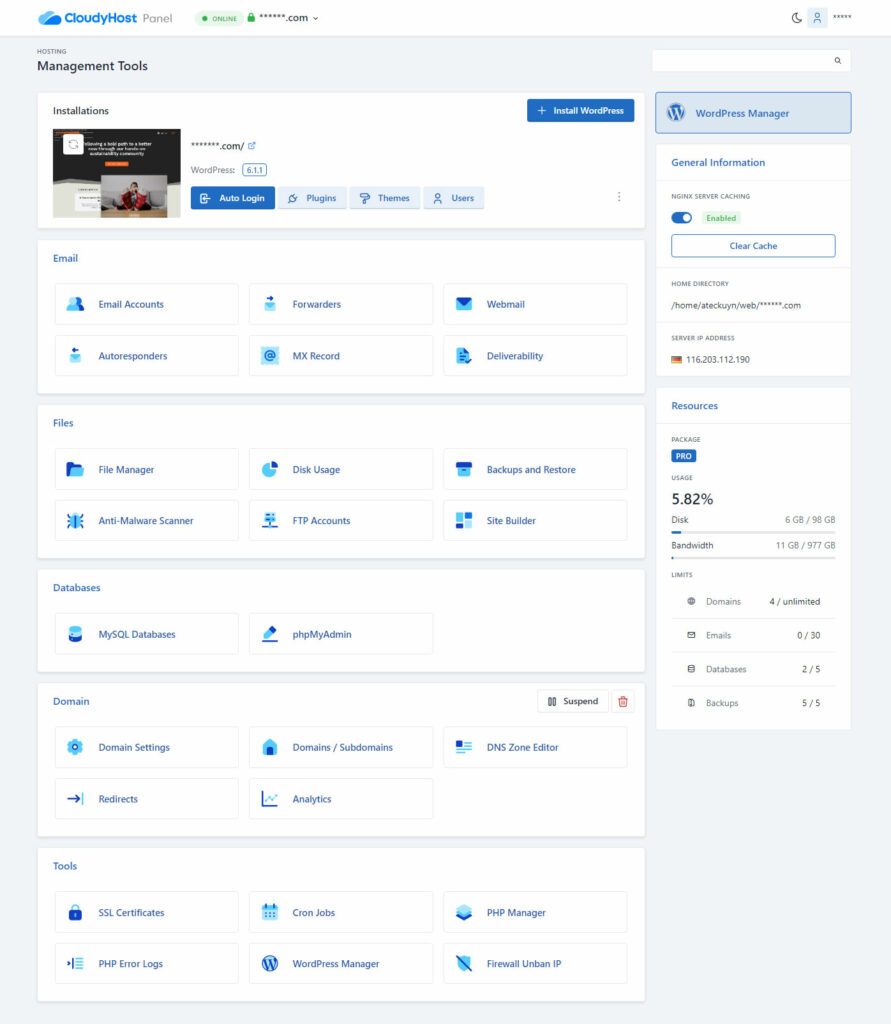 First and foremost, ePanel stands out from its counterparts due to its beginner-friendly and easy-to-use interface.
As a convenient tool, ePanel allows you to utilize the File Manager, Manage Hosting and Email Accounts, and FTP features. You can also easily monitor bandwidth and disk space, park domains, and install desired software like WordPress.
Ready to give it a try? ePanel is available with all our web hosting plans. Alternatively, check out a live demo to see how it looks.
What Are the Pros of Using ePanel?
As with every control panel, ePanel has its own pros and cons.
Advantages of ePanel
Intuitive and minimalistic design
Simple navigation
Detailed management and overview settings
Useful information on technical elements like analytics, logs, storage, and bandwidth
Possibility to create backups to restore website files and databases
Tweaked per customer request
Continuous updates and features
What Is cPanel?
cPanel is a Linux-based control panel that is currently an industry standard and widely used among developers. With the help of its interface, users can manage to host web accounts efficiently.
Like other well-known hosting control panels, cPanel comes with its pros and cons
What Are the Differences Between cPanel and ePanel?
From easy-to-follow installations to MySQL databases, ePanel appears similar to cPanel. The main difference between the two is the developer – ePanel is an in-house tool developed by CloudyHost to make every customer's online experience as easy, performant and smooth as possible.
Here are the main ePanel's differences compared to cPanel and other web-based admin tools:
Cloudbase – the customer-facing part of ePanel is cloud-based and highly available (HA), offering considerable operational performance and helping maintain a clutter-free experience with its visual dimension, action queues, and great UI/UX features. All of these make the ePanel interface better organized and more visually appealing.
Speed – boosting speed and strengthening reliability, each server only has API end-points that connect to the front side of ePanel. Meanwhile, cPanel is fully hosted on each server individually, using its resources. As a result, there's no performance loss with ePanel.
Old vs new software – while cPanel offers updates, it runs on outdated legacy software. Meanwhile, we created ePanel with the best technology stack for website performance, and continue to apply the latest updates and tools available.
For customers, ePanel's architecture allows a much faster response time due to multiple caching layers. Users can also host more accounts on a single server with better performance.
Final Takeaways
While cPanel is convenient for its widespread use, its limitations lie in their core technology, a friction-prone interface, and a lack of maneuverable functionality. But isn't that what matters most when using a tool?
With performance statistics, plan usage information, domain overview, database alterations, and advanced configurations, ePanel is where users can find everything they need to maintain an all-around healthy website.
ePanel is a custom-made panel, based on the latest technology and tweaked as per customer requests. Its flexibility is at the forefront. You'll be receiving continuous updates and features.